Bracelets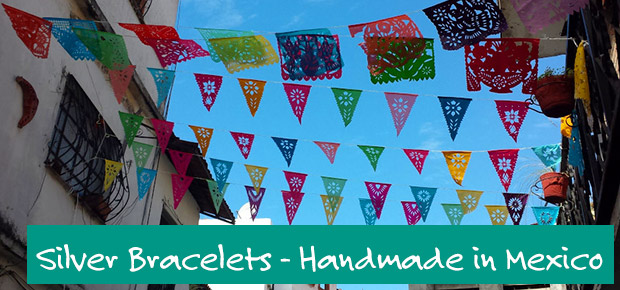 Handmade Silver Bracelets
Our delicate handmade silver bracelets tell the story of the rich Mexican culture. Each and every one of our bracelets has a spectacular design, so choose from our unique array of shapes, sizes and colours the one that will refine your personal style. Carefully crafted by talented artisans in Taxco, Mexico, our handmade silver bracelets are long-lasting accessories that will set you apart from the crowd.
Do you like the classic design? Or do you prefer something bold and fun? Take a look at our bracelet collection: silver bangles, beaded bracelets, statement bracelets, you will certainly find something that fits your personal style. Handmade in Mexico
All our handmade silver jewellery comes from Taxco in Mexico. We buy directly from small family businesses and independent designers, handpicking each piece ourselves to ensure a high level of quality and have an input into some of the designs. We aim to source beautiful and unusual silver jewellery.