Contemporary Silver Rings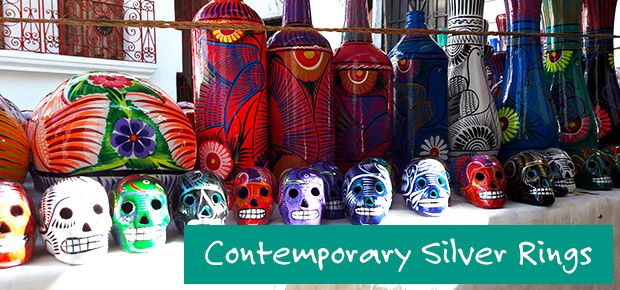 Contemporary Silver Rings
Looking for that fabulous and funky accessory that will match your à la mode style? Search no further! Our unique collection of contemporary silver rings oozes with character, charm, and innovative designs, adding the right amount of modernity to your sense of fashion. Our talented artisans from Taxco, Mexico have put time, care and passion into every single ring of ours, so you can rest assured that you'll get to wear a truly unique piece of jewellery.
Extremely versatile, our modern silver rings are available in a wide array of colours, designs and sizes, and can be adorned with beautiful stones, geometric shapes or resin designs.
View our full range of rings here. Handmade in Mexico
All our handmade silver jewellery comes from Taxco in Mexico. We buy directly from small family businesses and independent designers, handpicking each piece ourselves to ensure a high level of quality and have an input into some of the designs. We aim to source beautiful and unusual silver jewellery.