Additional Info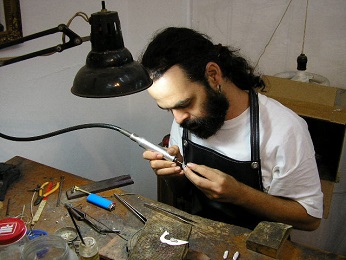 A self-trained jeweller and graduated artist from the school of arts in Taxco. Alon utilises a variety of designs in his silver jewellery and is influenced by styles of a contemporary nature as well as those based on antique design.
View collection
Additional Information
| | |
| --- | --- |
| Weight (grams) | 5.1 |
| Materials | Peridot, Silver, Semi-precious |
| Type | Not Specified |
| Style | Not Specified |
| Finish | Oxidised, Polished |
| Producer | Alon Diller |
| Dimensions | Ring is 20mm in height at the front. The band at the back is 4mm thick. Peridot stone has a 6mm diameter. |
| Colours | Green | Handmade in Mexico
All our handmade silver jewellery comes from Taxco in Mexico. We buy directly from small family businesses and independent designers, handpicking each piece ourselves to ensure a high level of quality and have an input into some of the designs. We aim to source beautiful and unusual silver jewellery.