Semi-Precious Pendants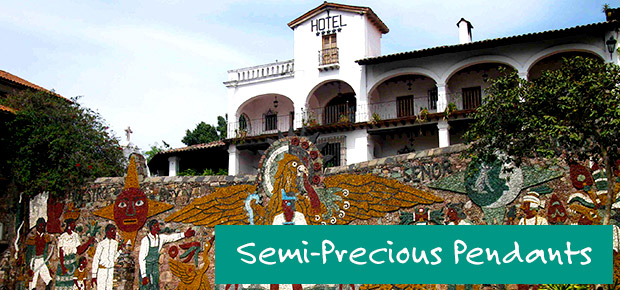 Semi-Precious Pendants
Silver Bubble puts at your disposal an exquisite collection of semi-precious pendants. Each and every piece of jewellery is hand selected and chosen with individuality and quality in mind, so will have its own unique story to tell. To create a delicate design, our talented artisans from Taxco, Mexico only work with natural stones like Amethyst, Peridot, Chrysoprase, Lapis Lazuli or Topaz, which are then carefully encased in polished, high-quality silver. Their work always results in characterful silver pendants, which will enrich your jewellery collection with a bit of Mexican culture.
Our semi-precious pendants are available in a wide range of festive colours, simple or sophisticated designs and attractive combinations, so they can fit any style, personality and age. Whether you are looking for a dragonfly, moon, sun, flower or even an eccentric spiral, we have it all. You can also complement your favourite semi-precious pendant with a refined handmade silver chain, for more information, please click here.
View our full range of semi-precious jewellery here. Handmade in Mexico
All our handmade silver jewellery comes from Taxco in Mexico. We buy directly from small family businesses and independent designers, handpicking each piece ourselves to ensure a high level of quality and have an input into some of the designs. We aim to source beautiful and unusual silver jewellery.