Mexican Silver Jewellery from Taxco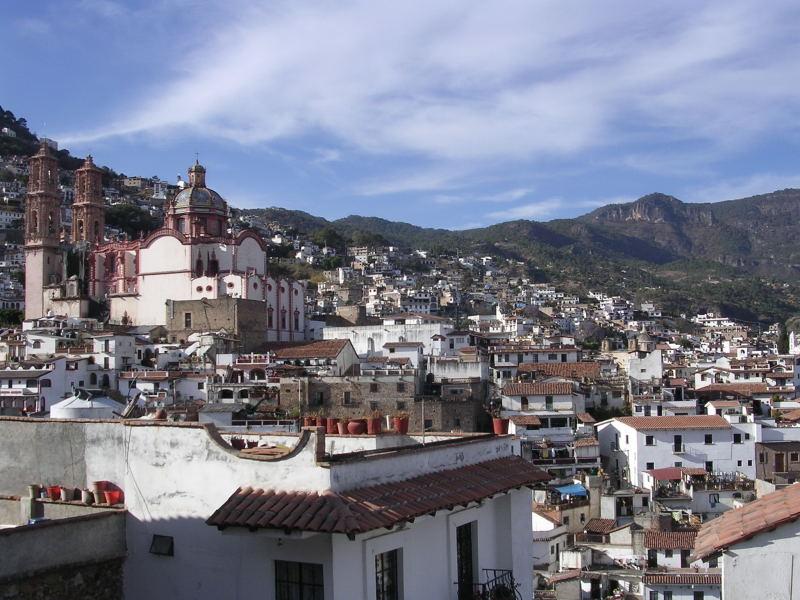 Welcome to Silver Bubble! All of our Mexican silver jewellery is sterling silver, handmade, and comes from Taxco in Guerrero - in case you're wondering, the 'x' is silent - it's pronounced 'Tas-koh'. We buy directly from small family businesses and independent designers, handpicking each piece ourselves to ensure a high level of quality, and have input into some of the designs. We strive to select unusual jewellery, choosing original designs in mexican silver rings, earrings, pendants, necklaces, bracelets and bangles.
Our unusual earrings collection is loved by customers, and if you need inspiration take a look at some of our favourites to get an idea of the variety and different styles we offer.
We know it helps to understand what sits behind our silver jewellery - for more information on who we source our jewellery from, take a look at the collections tab for information on the different Mexican jewellery artisans and designers we buy from. Our beaded jewellery collection is sourced in Guatemala and is handmade by women's cooperatives around Lake Atitlan.
Taxco's association with silver is centuries old. Our many visits to Mexico over the years have helped us get to know the people, culture, heritage and what makes Taxco such a special place.
With travel being so difficult in recent months, we thought we'd bring our little corner of Mexico to you!
In case you didn't know, here is Taxco on the map. It's situated in Guerrero, toward the South.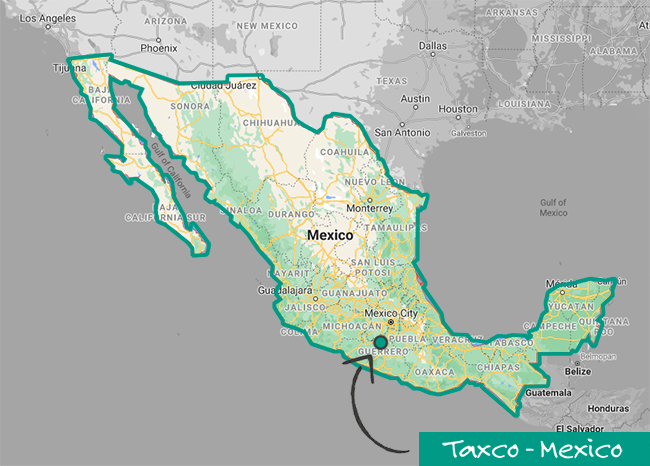 The History of Silver In Taxco, Mexico
The Mexican town of Taxco, world famous for its silver jewellery, is set in the slopes of Atache Hill, 1,755 metres above sea level, in the Taxco mountains. The town's association with silver is steeped in history, and has been for hundreds of years.
Taxco was a Tlacho Indian settlement, together with a settlement founded by the Spanish in 1528 and became one of the first early mining centres. But the area has a long historical connection with silver, initially being a mining centre in pre-Hispanic times with jewellery being made for ceremonies honouring the Aztecs and their deities. The ruling class were adorned in headdresses, nose pins, amlets, bracelets, pendants, rings, earrings and charms all crafted from the silver mined. The Tree of Life designs are said to descend from these roots, and you can find out more here about what the Tree of Life in Mexico is all about.
- Hernan Cotes
Hernán Cortés, the infamous Spanish conquistador and explorer who defeated the Aztecs and claimed Mexico for Spain, came to the area in 1521. But he came across something which was to become very valuable to the Spanish Crown and be responsible for the vast wealth they enjoyed: Gold and Silver.
- Don Jose de la Borda
In 1716 another Spaniard, of French descent, made his way to Taxco, Don Jose de la Borda. He discovered the San Ignacio mine which in time accounted for 80% of the silver exported from Mexico to Europe via Asia by sea, from the port of Acapulco. He became the richest man in Mexico - maybe even the world!
- William Spratling
Although the old silver mines of the colonial days are no longer in operation, silver remains an integral and principal aspect of Taxco and Mexico. The design and handicraft of silver jewellery was first introduced to Taxco in the 1930's by an American called William Spratling, who is branded as the 'father of Mexican Silver'.
Spratling began designing silver jewellery in Taxco and as the reputation of his designs grew, so did the handcrafting of beautiful and unique silver jewellery in Taxco, establishing Taxco's modern day status as one of the principal handmade silver jewellery capitals of the world.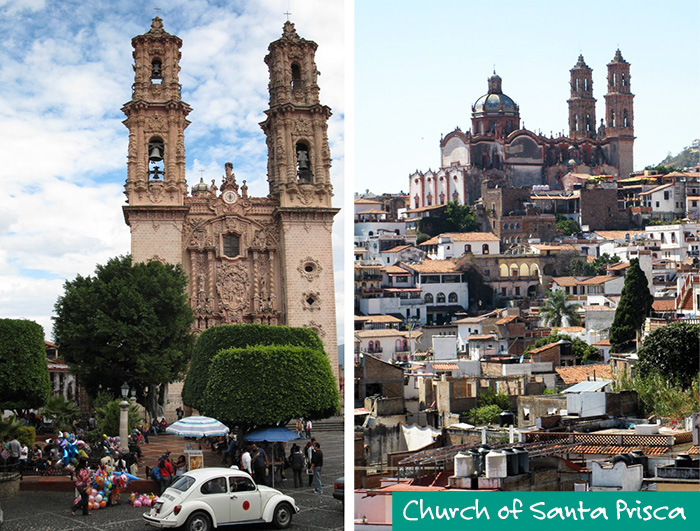 Santa Prisca Church
Jose de la Borda's family motto reads "God gives to La Borda and La Borda gives to God."
In 1751 he spent an extravagant amount of money on the famous and very extravagant Roman Catholic Church of Santa Prisca, built in the New Spanish Baroque (also known as Mexican Baroque) architectural style. It was the tallest building in Mexico for 45 years, boasting 518 angels, 9 floor-to-ceiling golden altarpieces, 23 tons of gold leaf and 54 paintings by Miguel Cabrera of Oaxaca.
Aldous Huxley, the famous British author, described it as 'ugly' when he visited Taxco - we'll let you make your own mind up!
The church is a central focal part of Taxco, visible from most places within the town, showcasing its unique architectural style and acting as a landmark for many.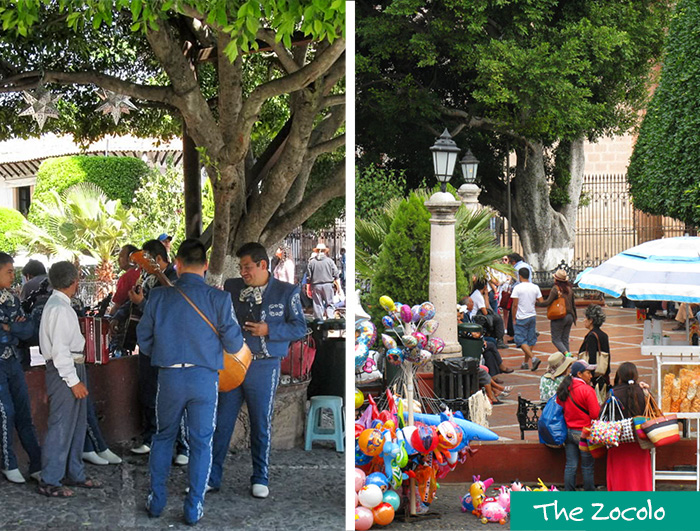 Mexican Culture
But silver isn't the only thing Mexico has to offer - of course! The Zocolo in front of the Santa Prisca Church is the central hub of everyday life. Here gather balloon sellers, food vendors, Mariachi band members, local handicraft makers selling their wares alongside the locals and tourists out for a stroll.
People sit on the benches to watch the comings and goings of local life and folk. On the weekend evenings it really comes into its own, family groups venture out together, from newborns to great grandparents, to enjoy the atmospheric hustle and bustle of Zocolo life.
Live music often creates a buzz in the Zocolo, with people dancing together in a vibrant Latin style. It's easy to sit there for hours, with an ice cream, mesmerised by it all. Our annual trip always coincides with Valentine's Day when the Zocolo becomes a core of red balloon sellers and hand holding lovers gathering, often a bunch of roses in arm. When our daughter was younger she would complain that there was far too much kissing going on as well! Mexicans are romantic, passionate people.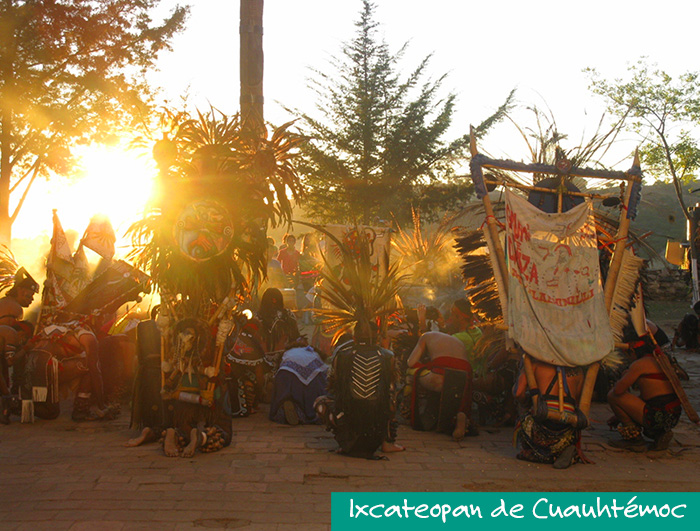 Annual Ceremony in Honour of Cuauhtémoc
Every year in a tiny town in the rugged mountains 36kms from Taxco, an important Aztec event and gathering takes place at the end of February. Known as Ixcateopan de Cuauhtémoc, it celebrates the birth and death of the last great Aztec Emperor, Cuauhtémoc, who ruled from 1520 to 1521. It is said that Cuauhtémoc's remains were found under the parish church in the mid-20th Century.
This annual event in Ixcateopan has become a symbol of Mexican cultural identity and attracts dancers from all over Mexico and other nations in the Americas. The town is full of people dressed in vibrant, extravagantly decorated traditional Aztec costumes. Drums bang, conch shells blow, the air is full of the smell of incense from the ceremonies performed and all around people dance and jump to the uplifting, rhythmic beats from the drumming.
Along with all this, what proved to be memorable for us is the feeling of being transported back in time to a Mexico of long ago and its indigenous people. An experience we will never forget. It's things like this that are embedded, deeply into the fabric of our silver jewellery.
This is what makes it so special - we hope you agree.
Thank you for visiting our little corner of Mexico!
Where to next..?