Turquoise is a stone steeped in meaning - its name literally means delight 1. It is a stone that has been important in many cultures, and has been prized since 4000 BC where it was originally mined in Egypt. Later on it was transported through Turkey into Europe, the name Turquoise is thought to come from the French word Turque, for Turkish.
The meaning of turquoise gemstone varies but it is generally thought to be a powerful protector, and greatly prized across ancient cultures. In Mexico, the Aztecs highly valued turquoise stones, wearing it as a sign of distinction and valuing it more than emeralds 2.
Where does Turquoise come from?
The light blue-green colour of the turquoise stone is striking, making it a popular choice for adding accent and personality to your look. Each stone is unique, due to the natural colouration and variations depending on the stone's origin.
Turquoise is created in places where acidic waters meet copper, to create nuggets of stone. It is made up of hydrated copper which offers the bright blue hue, and aluminium phosphate which offers the matrix (the vein patterns) to the gemstone. In simple terms the brighter the blue, finer the quality and clearer the stone, the more valuable it is. The quality, and therefore value of Turquoise is measured in carats.
What does the Turquoise Stone Represent?
Turquoise stones have a feminine power which we absolutely adore, thanks to ancient links with Egyptian mythology. Hathor, the Goddess of Joy and Motherhood was intrinsically linked with the stone and known as the Mistress of Turquoise 3.
In the Americas, Turquoise was adopted as a stone of power, exclusively worn by Warriors. Also known as the Campaigner's Stone, Turquoise is said to favour those working to support environmental protection or human rights which is something we can all get behind!
In Mexico, turquoise stones were incorporated into ceremonial masks made from wood and encrusted with turquoise, as well as shells and other semi-precious stones, with examples dating right until the 1890s. The British Museum has some wonderful examples such as this one dating back to as early as 1400.
Turquoise Birthstone
Turquoise is the birthstone for December - so anyone with a Christmas-time birthday may benefit from this beautiful stone!
The meaning of turquoise as a birthstone is as a symbol of good fortune. Turquoise rings in particular are said to keep evil spirits away. The gemstone is also regarded as a love charm. Its opaque colour makes it a great choice for a more casual look, and can be worn as beads or set in silver or other precious metals. It is also said to help calm and balance your emotions.
The Benefits of Turquoise Stones
Crystal healing is widely discussed - whilst we await scientific evidence of the benefits, it can't hurt to enjoy the stone and believe in its potential. Turquoise gemstone benefits may include acting as a protector against poison, changing colour if there are dangers nearby 1. There are also said to be many holistic benefits, to aid wellbeing and positivity. The Gem Society describe Turquoise as a 'Stone of Hope' 6 and worn as a protective amulet, as well as acting as a bringer or water.
The benefits of turquoise are said to include:
Detoxifying the body
Relief from Migraine, Arthritis and Rheumatism, Asthma
Easing cramps
Helping to fight viruses
Protection against negativity
Promote emotional balance
The stone is said to offer protection against negativity, offering protection against intruders and helping children to be more outwardly resilient 5.
It's important not to substitute these properties for qualified medical advice and treatment however, so be sure to seek medical help if you do need it.
What Stones go well with Turquoise?
Turquoise is a striking colour, which can make it difficult to pair. Being a naturally occuring colour however We love it against a simple black top, or against white for a more summery look. It's very tactile, so if you do treat yourself or someone special, you'll find it rewarding to wear. Especially for those of us that like to keep our hands busy.
If you're keen to understand what colours go well with turquoise, look no further than nature. As turquoise is a naturally occurring stone, it looks totally at home against any number of neutral colours such as brown, blue, grey, white or black - sticking with a particular colour palette will help you maintain a strong look that reflect your personality.
We also love to pair turquoise with contrasting colours like onyx, obsidian, or chalcedony - turquoise also looks fabulous with copper.
How to Style Turquoise Jewellery
Turquoise is a bright and vivid colour, and is a joy to wear! Our best advice when considering how to style turquoise jewellery for yourself is to relax and wear it regularly. You'll soon find the items of clothing that make it pop, and complimentary jewellery and accessories that help you feel and look your best.
We'll pulled together a few pointers to get you started.
Bring Turquoise into your Lifestyle:
If you're generally casual, go for something chunky that will fit into your everyday life. Our Turquoise Bronze Acorn Necklace is perfect for adding a little colour to your everyday.
If you do a lot of sports, try our little turquoise studs for practical style
Our Alambres pendant and matching drop earrings are just perfect for someone who likes to coordinate for work, evenings or everyday.
Make a statement with our Mexican Bird earrings with turquoise.
Keep your colours simple:
Turquoise looks fabulous against neutral colours such as black, white, browns or greys.
Pair with other semi-precious stones carefully - we love it with contrasting colour like onyx, pearl or coral.
If you're mixing your metals, copper is a lovely contrasting colour to make your turquoise really 'pop'.
Use turquoise jewellery to complement and enhance your outfit, not overpower it.
Giving Turquoise Jewellery Meaning
Turquoise is a wonderfully diverse stone, and considering its potential to improve your wellbeing and general health, we feel it's something that should be included in everyone's collection! Turquoise has so much character, that however you wear it we're sure you'll find joy in its sun-drenched surface, and utterly tactile finish.
Discover our Turquoise Collection at Silver Bubble Jewellery below.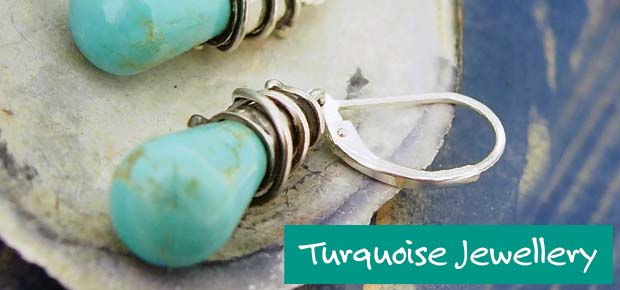 References
1 Eason, C (2015) Healing Crystals. New York: Sterling Publishing, 2 Britannica.com/science/turquoise, 3 ​​Ancient-origins.net/myths-legends/hathor-turquoise-goddess-near-nile-005684, 4 Nationalgeographic.com/travel/article/how-turquoise-became-synonymous-with-new-mexico, 5 Psychic-revelation.com/reference/a_d/crystals/turquoise.html, 6 Gemsociety.org/article/history-legend-turquoise-gems-yore/, 7 Almanac.com/december-birthstone-color-and-meaning