Silver Stud Earrings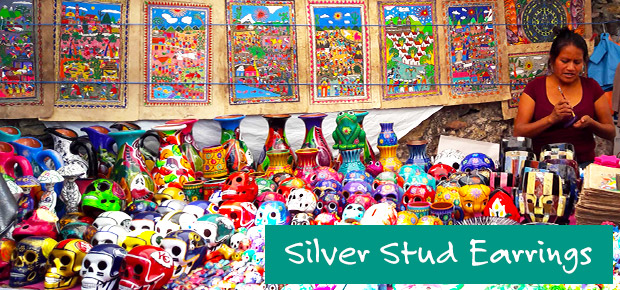 Silver Stud Earrings
Boost your mood instantly with our sweet and charismatic collection of handmade silver stud earrings! From simple silver studs you can wear all the time to quirky designs that will add the wow factor to your attires, our beautifully detailed handmade silver studs will make you grin from ear to ear. Each pair has been meticulously handcrafted by our talented silversmiths in Taxco, Mexico, adding a drop of Mexican heritage to the entire collection. With an oxidised and polished finish, our handmade silver stud earrings come in a variety of designs, colours and sizes.
Simply choose the pair that reflects your personality the best!
View our full range of earrings here. Handmade in Mexico
All our handmade silver jewellery comes from Taxco in Mexico. We buy directly from small family businesses and independent designers, handpicking each piece ourselves to ensure a high level of quality and have an input into some of the designs. We aim to source beautiful and unusual silver jewellery.