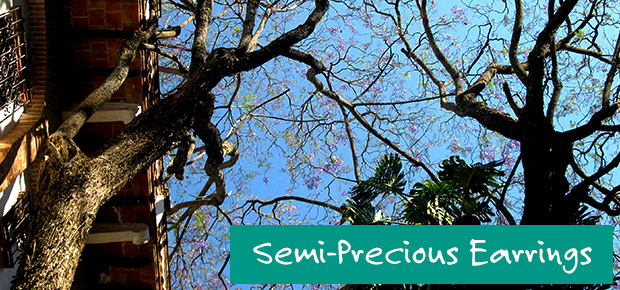 Semi-Precious Earrings
Welcome to our outstanding collection of silver semi-precious earrings. Delicately handcrafted by our talented artisans in Mexico, each and every piece of jewellery is elegantly framed with a polished silver outline and further enhanced with a beautiful semi-precious stone. Whether you prefer an abstract shape, a romantic design or something more classic that goes with any of your outfits, rest assured that our semi-precious earrings range will match your style exactly.
Lapis Lazuli or Amethyst? Topaz, Peridot or Chrysoprase? Browse our exclusive collection and discover what you like. We only source handmade silver earrings in extremely limited editions, so it's highly unlikely you will ever meet someone owning the same piece as you. Our jewellery is packaged in a fine recyclable box. An option to include a gift message is also available, in case you want to make someone happy with a beautiful present.
View our full range of semi-precious jewellery here.