Silver Statement Necklaces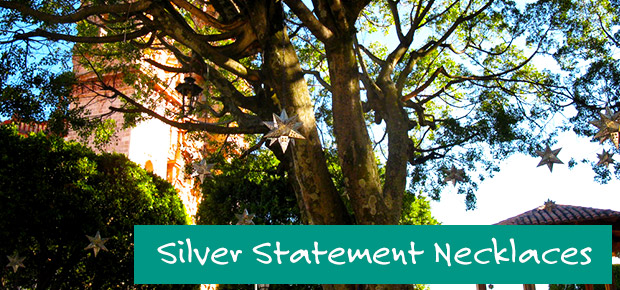 Silver Statement Necklaces
If you're looking for the perfect silver statement necklace, take a look at our carefully curated range. All of our pieces are lovingly handmade and totally unique.
Be bold and make a statement! Our collection of silver statement necklaces come in all shapes and sizes. We have long, accentuating necklaces or smaller, more delicate pieces. Whatever your preference, we have a statement necklace begging to be matched with your favourite outfit.
Whether you're looking to layer your necklaces, or after that single head-turning piece - we're confident you'll find the perfect silver statement necklace for you. Please have a browse of our hand-picked selection!
Take a look at our full collection of handmade silver necklaces. Or discover our full range of silver statement jewellery! Handmade in Mexico
All our handmade silver jewellery comes from Taxco in Mexico. We buy directly from small family businesses and independent designers, handpicking each piece ourselves to ensure a high level of quality and have an input into some of the designs. We aim to source beautiful and unusual silver jewellery.