Additional Info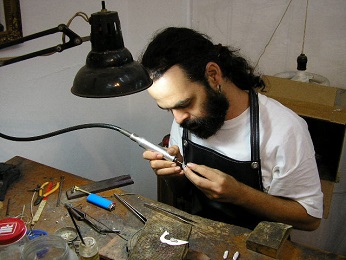 A self-trained jeweller and graduated artist from the school of arts in Taxco. Alon utilises a variety of designs in his silver jewellery and is influenced by styles of a contemporary nature as well as those based on antique design.
View collection
Additional Information
| | |
| --- | --- |
| Weight (grams) | 1.8 |
| Materials | Garnet, Silver, Semi-precious |
| Type | Hook (Earrings) |
| Style | Not Specified |
| Finish | Hammered |
| Producer | Alon Diller |
| Dimensions | Earrings are 30mm from top of hook to bottom of star, which is 12mm long and wide. Garnet stone has a 4mm diameter. |
| Colours | Red, Silver |
You might also like these Handmade in Mexico
All our handmade silver jewellery comes from Taxco in Mexico. We buy directly from small family businesses and independent designers, handpicking each piece ourselves to ensure a high level of quality and have an input into some of the designs. We aim to source beautiful and unusual silver jewellery.